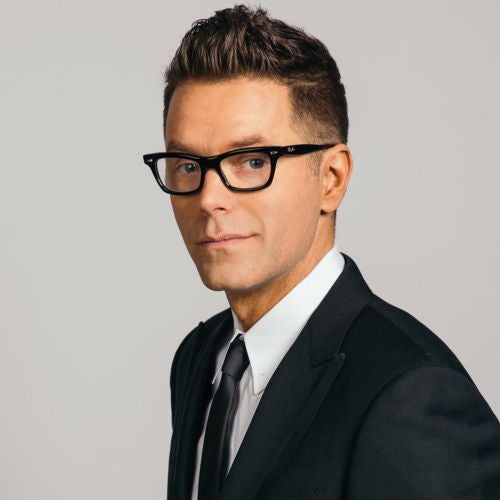 Inquire below to book Bobby Bones
Host, "The Bobby Bones Show"
Bobby Bones: Biography at a Glance
The most popular country music DJ in America
Hosts the nationally syndicated "Bobby Bones Show," which draws more than 5.1 million listeners weekly
Two-time winner of the Academy of Country Music Award for national on-air personality of the year
Author of the bestsellers "Fail Until You Don't: Fight Grind Repeat" and "Bare Bones: I'm Not Lonely If You're Reading This Book"
Winner of "Dancing with the Stars" (Season 27), and in-house mentor for "American Idol"
Sells out theaters across the country with his parody comedy band, "Bobby Bones and the Raging Idiots"
Host, "The Bobby Bones Show"
Bobby Bones is the most popular country music DJ in America with over 5.1 million weekly listeners for his nationally syndicated, award-winning Bobby Bones Show. The show broadcasts out of Nashville each morning, with frequent guests including Taylor Swift, Blake Shelton, Tim McGraw, Lady Antebellum, and Jason Aldean. In 2014 and 2016, Bobby won the Academy of Country Music Award for National On-Air Personality of the Year. Bobby also hosts the weekly Country Top 30 Countdown.
Bobby was raised by a single mother for much of his life. His mother battled addiction and died in her 40s of drug overdose. He was adopted by his grandmother and never knew his biological father. Bobby was the first in his family to graduate high school and college. He is a proud "food stamp and welfare kid" that found his way out of his tough circumstances through hard work and education. He believes every small positive decision leads to larger life altering ones.
The Bobby Bones Show started with just Bobby as he soon turned to his friends for help. Despite it being the largest syndicated country morning show in the United States, no one on the show but Bobby has any prior radio experience. Much of the show's success is credited to that. At 26, Bobby started self-syndicating his show with his own money; fast forward 8 years, he has over 5.1 million weekly listeners on over 100 radio stations.
Bobby is the president of Right Side Blind, that develops scripted and unscripted programming for cable and network television. iHeartMedia is an enthusiastic backer of Right Side Blind, as Chairman and CEO Bob Pittman relayed, "Bobby Bones has emerged in just a year to become one of radio's top personalities, and we look forward to working with him on this new venture."
Bobby has also appeared in film and television. He had a part in the movie Bandslam, has appeared twice as himself on ABC's Nashville, and has guest hosted with Kelly Ripa on Live! With Kelly. He has appeared as a guest on Fox News, ABC News, Headline News, CBS This Morning, and CNN. Bobby also presented at the CMT Video Awards and was featured on NBC's iHeartRadio Music Awards.
Bobby released his first book, Bare Bones: I'm Not Lonely if You're Reading This Book, in May 2016. The New York Times and Wall Street Journal bestseller is a touching, funny, heart-wrenching, and triumphant memoir that shares his journey from rural Arkansas to become the host of one of the most listened-to drive time morning radio shows in the nation.
In his free time, Bobby tours with his parody comedy band, The Raging Idiots. Their album, The Critics Give It 5 Stars was the #1 Comedy Album and #4 Country Album. He has collaborated with Garth Brooks, Carrie Underwood, Brad Paisley, Charles Kelley of Lady Antebellum and Kelsea Ballerini. Bobby Bones & the Raging Idiots have sold out shows across the U.S.
Bobby has helped raise over $6 million for numerous charities, including St. Jude, Musicians on Call, Humane Society, Vanderbilt Hospital, Dell's Children's Hospital in Austin, Texas and many others.
He is a dog lover and spends a lot of his time with his dog, Dusty. He is big on social media and is constantly interacting with listeners via Twitter and Facebook. Bobby uses the rest of his free time exercising, reading, shopping and going to sporting events.
To book a speaker, or for more information, call 424-288-2898, or send us a message using the form below.