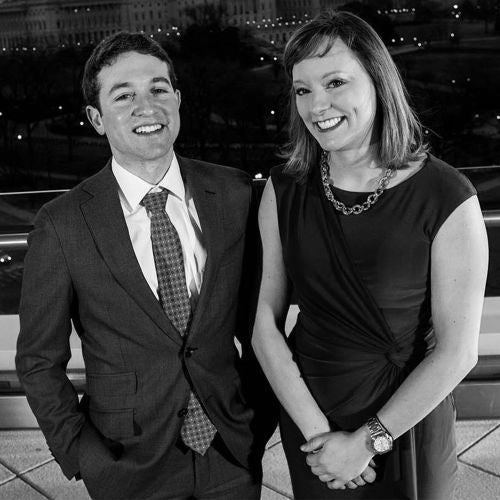 Inquire below to book Jake Sherman & Anna Palmer
Co-Authors & Senior Writers, 'Politico'
Jake Sherman & Anna Palmer: Biography at a Glance
Senior writers for Politico and co-authors of the Politico Playbook, Jake and Anna drive the political narrative in Washington with inside, high-impact reporting.
Jake has covered the battle for control of Congress for Politico for seven years. His focus is on the House Republican leadership and the major legislative battles on Capitol Hill. He previously covered Washington for the Wall Street Journal.
Anna was formerly the co-author of Politico Influence, the essential daily newsletter for information on lobbying and money in politics. She previously covered House leadership for Roll Call.
Since they took over the Playbook daily newsletter in July 2016, readership has increased by 20%.
Their new book, The Hill to Die On: The Battle for Congress and the Future of Trump's America, will be released in April 2019
Co-Authors & Senior Writers, 'Politico'
Jake and Anna are senior writers for Politico and the co-authors of the Politico Playbook, the twice-daily newsletter that drives the narrative in Washington. Since Jake and Anna took over in July 2016, Playbook's readership has increased 20%.
Jake has covered Congress for Politico for the past seven years, specifically focused on the House Republican leadership. He has been recognized for his coverage of the downfall of John Boehner, and rise of Paul Ryan. Prior to joining Politico, Jake worked at the Wall Street Journal.
Anna previously was the co-author of the daily newsletter Politico Influence, which focuses on lobbying and money in politics. Before Politico, Anna covered House leadership and lobbying as a staff writer for Roll Call. She got her start in Washington journalism as a lobbying business reporter for the industry newsletter Influence.
To book a speaker, or for more information, call 424-288-2898, or send us a message using the form below.