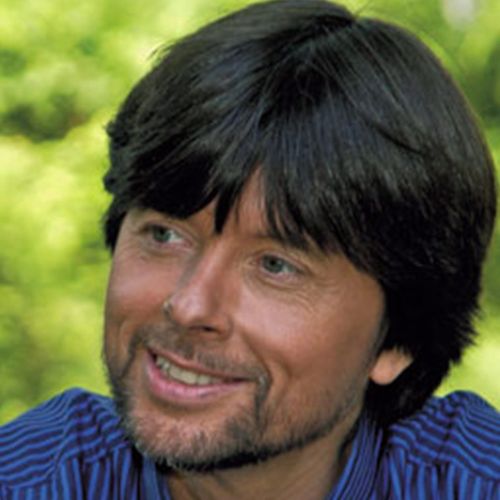 Inquire below to book Ken Burns
Award-Winning Documentary Filmmaker
Ken Burns: Biography at a Glance
Award-winning documentary filmmaker behind "The Central Park Five," "The Vietnam War," "The Civil War," "Lewis & Clark: The Journey of the Corps of Discovery" and "Baseball"
Four-time Emmy nominee and two-time Oscar nominee
Received the 2013 John Steinbeck Award
Award-Winning Documentary Filmmaker
An award-winning documentary filmmaker, Ken Burns has directed film projects such as The Civil War, Baseball, The West, Unforgivable Blackness: The Rise and Fall of Jack Johnson, The National Parks: America's Best Idea, Prohibition and The Central Park Five all of which were developed for PBS.
The late historian Stephen Ambrose said "more Americans get their history from Ken Burns than any other source," while The New York Times has called Burns "his generation's greatest filmmaker." Burns is also one of the greatest speakers of our time. His electrifying and unusually moving words help remind us of the timeless lessons of history and the enduring greatness and importance of the United States in the course of human events.
Burns's first film, Brooklyn Bridge, was nominated for an Academy Award receiving another nomination four years later for The Statue of Liberty. He also earned Emmy Awards for Baseball and The National Parks: America's Best Idea. Additionally, Burns has earned two Grammy Awards, the Producer of the Year Award from the Producers Guild of America and a Peabody Award. In 2013, Burns was awarded the prestigious John Steinbeck Award.
Whether he is discussing his famous trilogy of celebrated documentary films, The Civil War, Baseball, and Jazz, or revealing the leadership models in the unexpectedly dramatic story of Lewis and Clark; whether he is delving into the complete and often contradictory lives of great American figures as diverse as Thomas Jefferson, Frank Lloyd Wright, or Mark Twain; or whether he is celebrating the achievements of the common soldier in World War II, his speeches always address what we share in common, not what divides us.
"There is too much 'pluribus' these days," Burns says, "and not enough 'unum.' I'm in the business of 'unum'." He does this in his films, of course, but also in his equally acclaimed and riveting speeches before business and community audiences. Great oratory has all but disappeared from our public discourse, so it is indeed refreshing to have Ken Burns remind us...words matter.
Burns currently resides in New Hampshire.
To book a speaker, or for more information, call 424-288-2898, or send us a message using the form below.