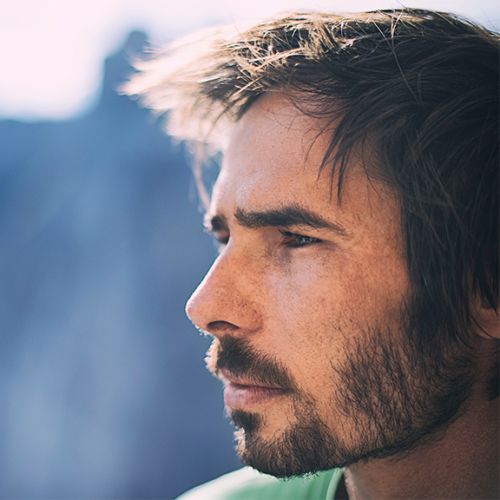 Inquire below to book
Kevin Jorgeson
Legendary Rock Climber & Entrepreneur
New & Noteworthy
"The Dawn Wall" documentary is now available worldwide on Netflix
At a Glance
Kevin Jorgeson

: Biography at a Glance
Kevin Jorgeson is widely recognized as one of the best big-wall rock climbers in the world, well known for being able to free climb sheer cliffs and high ball large boulders.
He notably completed the historic first free ascent of El Capitan's Dawn Wall in Yosemite alongside Tommy Caldwell, considered the hardest climb in the world.
To accomplish the seemingly impossible feat, Kevin and Tommy spent 19 days living on the side of the 3,000 foot cliff of El Capitan, slowly but surely making their way with nothing but their grit, determination, and first class skill keeping them moving upward. 
Kevin introduces audiences to The Dawn Wall Method, where individuals, teams, and organizations are guided through the same mindset shifts that enabled Kevin to transform both his body and mind over the course of six years to scale the world's hardest big wall.
The Dawn Wall, the award-winning documentary following Tommy and Kevin's legendary climb, premiered in theaters across the world to overwhelming critical acclaim
Since climbing the Dawn Wall, Kevin founded two companies. 1Climb aims to make the sport of climbing more diverse and accessible for the next generation. Session is a climbing gym company whose first facility is a $10m ground-up development in Kevin's hometown of Santa Rosa.
Biography
On January 14, 2015, after 19 days of living on the side of the 3,000' cliff El Capitan in Yosemite, CA, Kevin Jorgeson stood on top of the hardest rock climb ever done. Kevin spent over six years with partner Tommy Caldwell imagining, planning, preparing, and attempting to free climb the Dawn Wall of El Capitan. During their successful 19-day climb, the story became a global inspiration, garnering over 34 billion media impressions – easily one of the largest sports stories of all time.
To many, their first question is "Why do such a thing?" Oddly, climbing is in Kevin's DNA but it doesn't run in the family. Rather, it's his passion for being in the outdoors mixed with a child-like curiosity for human limits that drives Kevin upwards. Kevin grew up spending time in the outdoors with his dad, hiking, white water rafting, fishing, hunting, and camping. At age 10, he discovered the sport of rock climbing and never looked back. By age 17, he was an International Champion and at age 30, Kevin is now one of the most widely recognized climbers in the world.
You can call Kevin a climber, an adventurer, an explorer, or even crazy. But, don't call him a "daredevil" or "thrill seeker." He would be the first to tell you that if you're having an adrenaline rush while 3,000' in the air, something is going wrong. Rather, the Dawn Wall is about partnership, adventure, optimism, determination, perseverance and the power of dreaming big. As Kevin shared with the world via Twitter just days before completing the climb: "This isn't about conquering, it's about realizing a dream."
Reviews
He. Was. Amazing. I mean -- amazing amazing. His ability to translate his climbing scenarios and prep into a business context was superb. He was articulate, had great stories, and was incredibly authentic.
Crate & Barrel
I am not sure that I can quite adequately articulate HOW wonderful Kevin was!  His messaging EXACTLY on-point for what we hoped for and "needed"... I really don't think we could have asked for more! He really knocked it out of the park and I believe he will be discussed for years and years to come!
True Capital Management
Tommy and Kevin did so much for Samsung during their time at the conference. We really appreciated that their storyline was so well told and received by the guests. They have a lot of fans at Samsung.
Samsung
Kevin was terrific. Very powerful presentation that clearly made an impact on our attendees. I appreciate that he took the time to get to know us and context around the meeting so he could really dial in the points and metaphors that were relevant to our team. Needless to say, people were fascinated by his amazing story.
Old Navy
Kevin was many things including articulate, warm, funny, and thought provoking. Most importantly, he was inspirational. He took on an impossible goal, worked for years to figure out how to do it, overcame profound emotional and physical challenges on the way to achieving it and grew as a human being along the way. For any person or organization facing change and challenge that will test its character, the story of the Dawn Wall told by Kevin is a must hear.
Gap, Inc.
Interestingly, seeing Kevin speak was a lifetime and career highlight for me. I was riveted during Kevin and Tommy's Dawn Wall push. Just so amazed and in awe. And Kevin was so sweet to hang out with, and as a speaker, just truly kind, humble, wise, smart and gracious. A home run. Everyone at the school loved him!
Des Moines Areas Community College
Kevin did a great job. It hit just the right notes I hoped it would. He's a special and very engaging person and a very good presenter. Appreciate your help and we'd be happy to recommend him in the future. Really well done!
Kilpatrick Townsend
Kevin was just awesome. He really has a talent for sharing thought-provoking words. People not only were inspired by his story but were even more bowled over by his insightfulness, approachability, and willingness to engage with us.
Genentech
Kevin's presentation was well done and really hit home some really great message points about teamwork and putting yourself in a place to fail to truly see what you're capable of. I thought he did an amazing job explaining the nuances of rock climbing in a way that was easily understood.
Zurich
Kevin was phenomenal! We were all mesmerized. I can't thank you all enough. I'm so glad we went with Kevin.
ObservePoint
For speaker-related inquiries, email speakers@caa.com, or send us a message using the form below.