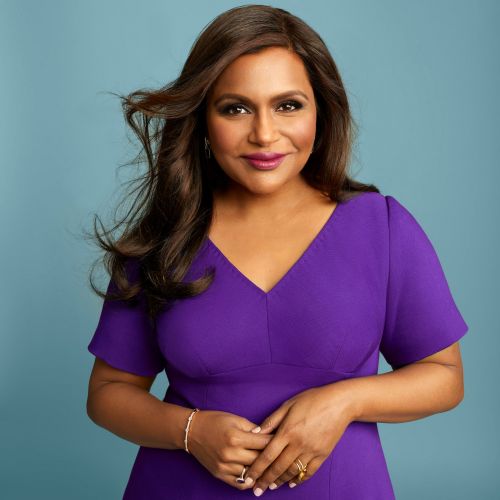 Inquire below to book
Mindy Kaling
Emmy-Nominated Writer, Producer, Actor
At a Glance
Mindy Kaling

: Biography at a Glance
Mindy Kaling starred in the Hulu original comedy series The Mindy Project, which she also wrote and executive produced.
The Mindy Project was nominated for a Writers Guild Award, Television Critics Association Award and NAACP Image Award.
Kaling created the Netflix series Never Have I Ever with Lang Fisher, a comedy partially based on Kaling's real childhood story. The series has been described as a watershed moment for South Asian representation in Hollywood and has been praised for breaking Asian stereotypes.
She is also known for her work on the critically acclaimed, Emmy Award-winning NBC show The Office.
Other credits include Oceans 8, Late Night, Despicable Me, Wreck-it Ralph and Inside Out among many others.
Kaling is the author of the New York Times bestsellers Is Everyone Hanging Out Without Me And Other Concerns and Why Not Me?
She was named one of TIME's 100 Most Influential People and Glamour's Woman of the Year.
Biography
Emmy-nominated writer, producer, and actor Mindy Kaling has been named one of the brightest voices of her generation.
At the 2019 Sundance Film Festival, Kaling premiered her debut screenplay titled Late Night.  With a cast including Emma Thompson, Reid Scott, Ike Barinholtz, Amy Ryan, John Lithgow, and Kaling herself, the film received critical acclaim at the opening weekend of the festival and sold to Amazon Studios for a record-setting $13 million US rights deal. 
Kaling broke out onto the scene at the 2002 New York International Fringe Festival with her original stageplay Matt and Ben which she co-wrote with her college roommate Brenda Withers.  The play was not only named one of Time magazine's "Top Ten Theatrical Events of The Year" of 2002 but also caught the eye of TV producer Greg Daniels who offered Mindy a job to come work on an NBC television pilot called The Office.
At 24, Kaling joined the eight-person writing staff of The Office as the only woman. Kaling's contract also allowed her to participate as an actor and she took on the role of celebrity-obsessed "Kelly Kapoor." During her 8 seasons at The Office, Kaling wrote 26 episodes of the show (more than any other writer). Some of the episodes she wrote include fan favorites such as "Diversity Day," "The Dundies," "Diwali" and "Niagara" for which she became the first woman of color to be nominated for an Emmy in any writing category. During her time at The Office, Kaling also directed two episodes and served as both producer and executive producer on over 120 episodes of the series. Kaling and her fellow writers and producers were nominated five consecutive times for the Primetime Emmy Award for Outstanding Comedy Series.
After signing an overall development deal with Universal Television, Kaling created The Mindy Project, which she starred and executive produced from 2012-2017. Kaling and her fellow writers were nominated for a Writers Guild Awards in the New Series category in 2013. Kaling wrote 25 episodes of the 117 episodes created for the six-season run of the series. In 2018, Kaling created and served as an executive producer on the NBC comedy Champions for which she wrote three of eight episodes.
Kaling served as a writer and executive producer on a mini-series adaptation of the popular film Four Weddings and a Funeral for Hulu. Kaling also created a Netflix series with Lang Fisher titled Never Have I Ever. The show is a modern coming-of-age comedy about the complicated life of a first-generation Indian American teenage girl, inspired by Kaling's own childhood. In addition, Kaling will write, produce and star in an untitled comedy for Universal opposite Priyanka Chopra. Co-written with Dan Goor, the film will revolve around a big wedding in India and the ensuing culture clashes.
In between all of her TV ventures, Kaling has released two New York Times best-selling comedic memoirs – Is Everyone Hanging Out Without Me? (And Other Concerns) in 2011 and Why Not Me in 2015. 
As an actor, Kaling has also appeared in many films including Judd Apatow's The 40-Year Old Virgin, the Oscar-winning Pixar film Inside Out, Disney's A Wrinkle in Time alongside Oprah Winfrey and Reese Witherspoon, and as a part of the star-studded cast of Oceans Eight.
In 2012, Kaling was named to the Time 100 Most Influential People in the World List.  She was honored with the 2014 Glamour Women of the Year Award.  In 2018, Kaling delivered an impactful commencement address at Dartmouth College and received the honorary degree of Doctor of Humane Letters.
Reviews
Mindy's comments were very well received, and based on both social and word-of-mouth feedback, I believe many of our associates are going to be "writing their own parts" as they grow into their careers.
RW Baird
It was fantastic. Mindy and the moderator had great chemistry, and the conversation was seamless. Very happy!
Simmons
For speaker-related inquiries, email speakers@caa.com, or send us a message using the form below.