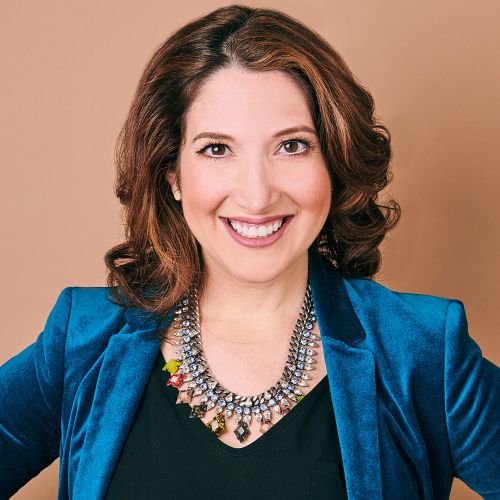 Inquire below to book
Randi Zuckerberg
Founder & CEO, Zuckerberg Media
At a Glance
Randi Zuckerberg

: Biography at a Glance
Randi Zuckerberg is Founder and CEO of the media consulting firm Zuckerberg Media
Former Director of Marketing at Facebook
Author of The New York Times bestsellers, Dot Complicated and Pick Three
Host of Dot Complicated with Randi Zuckerberg, a weekly business talk radio show on SiriusXM
Active angel investor, with a portfolio that has 53% female founders
Nominated for an Emmy Award in 2011 for her innovative coverage of the midterm elections, combining television and social media
On the board of the Huobi Chain Expert Advisory Committee, one of the most prominent blockchain think tanks in Asia
Winner of two Tony Awards as a Broadway Co-Producer
Biography
Randi Zuckerberg is an entrepreneur, investor, bestselling author, and Emmy-nominated tech media personality. She is the founder and CEO of Zuckerberg Media, with the mission of supporting current and future entrepreneurs through investment, mentorship, and media.
Prior to founding her own company, Randi was an early employee at Facebook, where she is best known for creating Facebook Live, now used by more than a billion people around the world.
A Harvard graduate, Randi hosts a weekly business talk radio show, Dot Complicated on SiriusXM and is the author of four books: two best-selling business books, Dot Complicated and Pick Three, and two children's books, Dot (currently also an award-winning preschool television series on Universal Kids and Hulu) and Missy President.
Randi travels the world, speaking about technology, entrepreneurship, her time in Silicon Valley, and shockingly...how to unplug! When she's not Facebooking or actual written-word booking, she can be found at the theater - as a two-time Tony Award winning Broadway producer of Hadestown and Oklahoma! - or doing her best to unplug at home with her husband and three children.
Reviews
You can tell she did a great deal of research on the business of my attendees and tied that all together with her expertise and knowledge. We had record breaking attendance.
Director of Meetings & Special Events, HFTP
The team cannot stop buzzing about it. Everyone thought she was the best presentation of the entire conference. She is such an impressive person. Smart, engaging, funny, and talented.
NBCUniversal International
We very much enjoyed having Randi and our program participants loved her presentation (and impromptu performance)!
Wharton School of the University of Pennsylvania
The event was very successful! Everyone loved Randi's speech.
Carnegie Mellon University
Great, great, great. Very successful event, our Chairman already committed to a repeat again next year.
Lincoln International
We loved Randi! It was a phenomenal time. Everyone was super impressed by her informational presentation. We all learned something new, and of course her singing was a scene stealer.
The Business Innovation and Growth Summit
She was fabulous and one of the best speakers we've had! She was a great fit and was very well received by our attendees.
Business Women's Forum
For speaker-related inquiries, email speakers@caa.com, or send us a message using the form below.