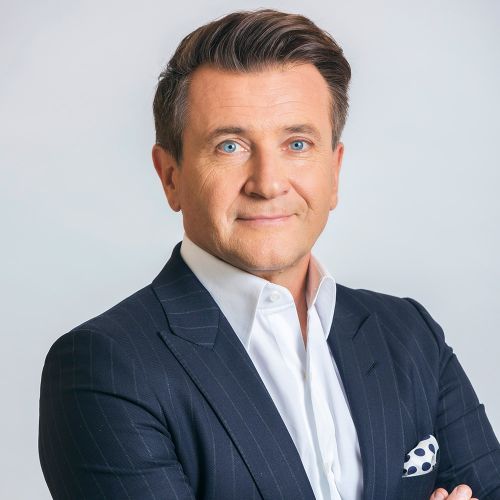 Inquire below to book
Robert Herjavec
Founder & CEO Herjavec Group & Leading Shark on ABC's "Shark Tank"
At a Glance
Robert Herjavec

: Biography at a Glance
Robert Herjavec is a star on ABC's Emmy-winning reality series "Shark Tank"
Founder and CEO of the Herjavec Group, one of North America's fastest growing technology companies, with over $500 million in sales
Built and sold several IT companies to major players such as AT&T
Bestselling author of three books: "Driven, The Will to Win," and "You Don't Have to Be a Shark"
Received 2012 Ernst & Young Entrepreneur of the Year Award
Biography
Robert Herjavec is a dynamic entrepreneur and leading Shark on ABC's Shark Tank. Born in Eastern Europe, he arrived in North America on a boat with his parents after escaping communism in the former Yugoslavia. From delivering newspapers, and waiting tables, to launching a computer company from his basement, his drive to achieve has led him to the fulfillment of a better life for himself and his family. In 2003, Robert founded Herjavec Group, and it quickly became one of North America's fastest growing technology companies. Robert's motivational business advice has received millions of impressions through TV, print, radio and digital media. He shares his expertise with other entrepreneurs each week as a leading Shark on ABC's Emmy Award-winning hit show Shark Tank.
Reviews
I have never received the response I am getting today concerning Robert's speech last evening. It is by far the most well received presentation in our history. Mr. Herjavec connected with the audience in a way that was "magical". His personal story is powerful and inspiring and his delivery authentic and heart felt. Bravo!
Manufacturers & Business Association
The FAST team was thrilled with Robert's presentation at our annual kick off. He spoke about adapting to change in our industry where the only thing constant is change. A truly motivating and passionate speaker.
Fast Technology
Robert Herjavec was fantastic. We've heard so many positive comments from clients and internal staff already. I would recommend him without hesitation. He was focused, attentive, and very engaged with our audience and our executives. Dare I say this was our best one yet! Thanks to you and the team for helping us make this happen.
Fifth Third Private Bank
For speaker-related inquiries, email speakers@caa.com, or send us a message using the form below.