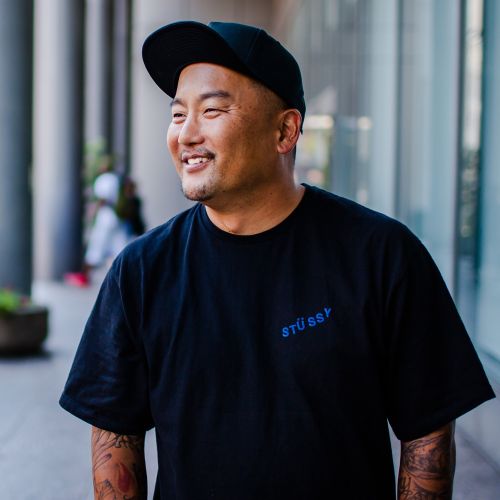 Inquire below to book Roy Choi
Owner & Chef, Kogi Truck
Roy Choi: Biography at a Glance
Host and executive producer of the food justice docuseries, "Broken Bread"
Godfather of the Food Truck Movement, as co-owner, co-founder and chef of the celebrated Kogi Truck
Chef behind the Los Angeles restaurants Chego, Sunny Spot, Alibi Room, A-Frame, 3 Worlds Cafe
Named one of TIME's "100 Most Influential People in the World"
Author of New York Times Bestselling Memoir "L.A. Son: My Life, My City, My Food"
Served as a technical advisor on the 2014 film Chef
Owner & Chef, Kogi Truck
Roy Choi is a tastemaker, chef, and disruptor.
In 2008, he and a crew of friends & family started what would be the beginning of the intersection between food, technology, culture, entrepreneurship, and long lines. That comet was called Kogi BBQ and it made a splash on the streets of LA, being the first to use Twitter and usher in a whole new generation of eaters and followers to what would be called "America's first viral restaurant" by Newsweek. The Kogi taco and lifestyle were like nothing before it, yet like everything you ever wanted.
From there, Roy went on to reinvent the rice bowl, redefine the communal table experience, revitalize historic neighborhoods, flip the model on bar food, upend the staid hotel experience, bridge LA culture to the world, and stumble into becoming a revolutionary, all while kickstarting a multi-billion dollar street food industry.
Roy was named Food & Wine's Best New Chef 2010, TIME 100 Most Influential People in the World 2016, LA Times Restaurant of the Year 2017, and has an award-winning New York Times Bestseller memoir called, L.A. Son: My Life, My City, My Food.
He resides in Los Angeles, California where he oversees Kogi BBQ, Chego!, A-Frame, and Alibi Room. In late 2018 he opened a new multi-faceted restaurant called Best Friend at Park MGM in Las Vegas, Nevada.
In 2019, Roy launched his own food justice docuseries, "Broken Bread." Each episode tackles issues facing society such as waste, immigration, and sustainability. The first installment looks at the power of cooking to help rehabilitate those on the margins of society. Other episodes investigate bringing healthy food options to communities that lack fresh food; the future of food using non-traditional protein sources and meat replacements; solutions to food waste; and cannabis culture, including an interview with Cheech Marin.
So if you've ever shared food on social media, stood in a long line for anything or got out of one to start your own creative business, you can thank Kogi BBQ and Roy Choi for that.
"Thank you for everything! Roy was such a pleasure and I already had a request to bring him back for a celebrity chef event."

San Manuel Indian Bingo & Casino
"Roy was awesome!!!! Killed it."

Chronic Tacos
To book a speaker, or for more information, call 424-288-2898, or send us a message using the form below.