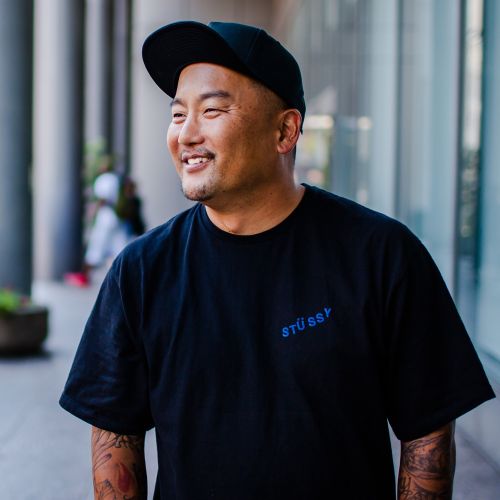 Inquire below to book Roy Choi
Owner & Chef, Kogi Truck
Roy Choi: Biography at a Glance
Roy Choi is best known as the godfather of the Food Truck Movement, as co-owner, co-founder and chef of the celebrated Kogi Truck
Host and executive producer of the food justice docuseries, "Broken Bread"
Star of the Netflix Original Series, "The Chef Show," where he and director Jon Favreau explore food in and out of the kitchen with accomplished chefs and celebrity friends
Chef behind the Los Angeles restaurants Chego, Alibi Room, and A-Frame, as well as Best Friend at Park MGM in Las Vegas
Named one of TIME's "100 Most Influential People in the World"
Author of New York Times Bestselling Memoir "L.A. Son: My Life, My City, My Food"
Served as a technical advisor on the 2014 film Chef
Biography
Roy Choi is a tastemaker, chef, and disruptor.
In 2008, Roy Choi and a crew of friends & family started what would be the beginning of the intersection between food, technology, culture, entrepreneurship, and long lines. That comet was called Kogi BBQ and it made a splash on the streets of LA, being the first to use Twitter and usher in a whole new generation of eaters and followers to what would be called America's first viral restaurant by Newsweek.
Roy was named Food & Wine Best New Chef 2010, TIME 100 Most Influential People in the World 2016, LA Times Restaurant of the Year 2017, and has an award winning New York Times Bestseller memoir called, L.A. Son: My Life, My City, My Food.
He resides in Los Angeles, California where he oversees Kogi BBQ, Chego!, A-Frame, Alibi Room, LocoL, and his first restaurant outside California called Best Friend at Park MGM, Las Vegas. Roy is co-producer on the movie Chef and executive producer/co-host on the subsequent, The Chef Show on Netflix. He is also executive producer and host of the socially conscious television show Broken Bread on KCET and Tastemade, and is a highly recognized speaker at events and panels worldwide.
"Thank you for everything! Roy was such a pleasure and I already had a request to bring him back for a celebrity chef event."

San Manuel Indian Bingo & Casino
"Roy was awesome!!!! Killed it."

Chronic Tacos
"Roy Choi was wonderful. His remarks were very thoughtful, and he was so humble and easy-going!!"

Kheir Center
To book a speaker, or for more information, call 424-288-2898, or send us a message using the form below.