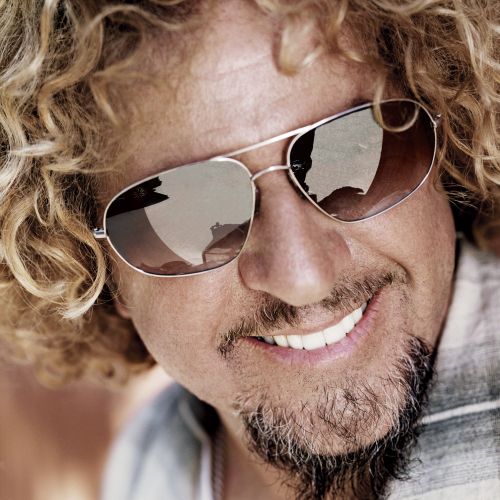 Inquire below to book
Sammy Hagar
Former Lead Singer, Van Halen
At a Glance
Sammy Hagar

: Biography at a Glance
Former lead singer of Van Halen
Rock and Roll Hall of Famer
Author of The New York Times best-seller "Red: My Uncensored Life in Rock"
Founder of Cabo Wabo Cantina, a bar and restaurant with locations in Cabo, Las Vegas, Lake Tahoe and Hollywood
Donates profits from his restaurant, Sammy's Beach Bar and Grill, to local children's charities
Biography
Sammy Hagar is the multi-platinum recording artist known as the Red Rocker, lead singer of hard rock legendary group Van Halen and respected member of the Rock and Roll Hall of Fame.  Throughout his career he also evolved into the entrepreneurial mastermind behind the Cabo Wabo Tequila brand, a bar and restaurant owner and philanthropist. He continues to rock as an artist and businessman as part of the super group Chickenfoot and with the launch of Sammy's Beach Bar Rum.
Hagar burst onto the music scene as the lead singer of Montrose, but was truly established as a rock presence when he embarked upon a solo career as a songwriter and vocalist in the mid-70s. He enjoyed immediate success with albums such as Nine on a Ten Scale and hits like "Red," which led to the creation of his persona as "The Red Rocker." Perhaps best known in his solo career for the wildly popular single "I Can't Drive 55," Hagar had his first Billboard #1 record in 1987 with "Give to Live."
Following his prolific solo run, Hagar joined Van Halen in 1985. As their front man on four consecutive multi-platinum #1 albums - 5150, OU812, For Unlawful Carnal Knowledge and Balance - he steered Van Halen to unprecedented popularity before the band broke up in the mid-nineties. In 2004, he returned to Van Halen for the critically acclaimed sold-out reunion tour.
Today, Hager rocks with Chickenfoot, made up of Joe Satriani, Van Halen bassist Michael Anthony and Red Hot Chili Peppers drummer, Chad Smith.
Hagar's business ventures began when he found his first home away from home in Los Cabos, Mexico, where he opened the tourist and local destination staple, Cabo Wabo Cantina. The franchise has since expanded to locations in Las Vegas, Lake Tahoe and Hollywood. It was at the flagship Cantina that he was inspired to create Cabo Wabo Tequila. After overseeing its development from conception to current position as a global brand, he sold Cabo Wabo Tequila in 2007, but maintains an interest in it today. With the recent imagination of Sammy's Beach Bar Rum, Hagar continues to build on his success in the spirit industry. Conceptualized and produced in his second home away from home, Hawaii, the world class Sammy's Beach Bar Rum is quickly following the success of Cabo Wabo Tequila.
From very early in his career, Hagar has been a philanthropist – from donating to local food banks in every city he plays to founding charities. In 2009, he embarked upon a joint business and philanthropic venture with Sammy's Beach Bar and Grill, donating all profits of the two current locations to local children's charities.
In 2011, Hagar released his highly anticipated autobiography, Red: My Uncensored Life in Rock, which reached #1 on The New York Times bestseller list.
When not continuing to build upon his success in music, business and philanthropy, his #1 priority to be a great father to his children and husband to his wife, Kari.
He currently splits his time between Marin, California and Cabo San Lucas.
For speaker-related inquiries, email speakers@caa.com, or send us a message using the form below.