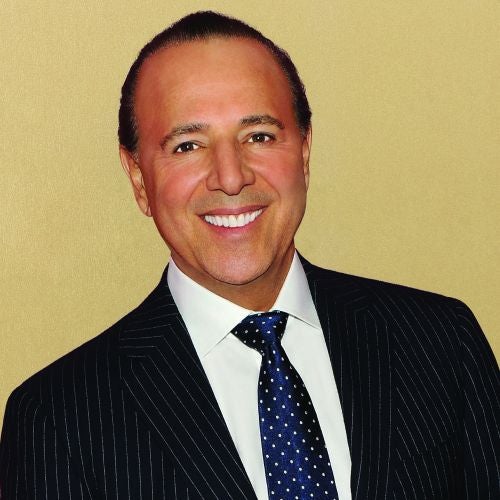 Inquire below to book Tommy Mottola
Former President, Sony Music Entertainment Worldwide
Tommy Mottola: Biography at a Glance
Former chairman and CEO of Sony Music Entertainment
Clients include Celine Dion, Mariah Carey, Beyoncé, Shakira, Barbra Streisand, Bruce Springsteen and Billy Joel
Created the world's largest rock merchandising company, Sony Signatures, which is now part of Live Nation Entertainment
Served on the board of directors of the National Center for Missing & Exploited Children, Leukemia and AIDS Research and the Rock and Roll Hall of Fame Foundation and Museum
Former President, Sony Music Entertainment Worldwide
As one of the most highly regarded and influential executives in the worldwide media, entertainment and communications business, Thomas "Tommy" D. Mottola most recently served as Chairman and CEO Sony Music Entertainment. During his tenure, he transformed Sony and its 18,000 employees into the most successful global music company in history, expanding its businesses and all of its manufacturing facilities into over 60 countries, while creating one of the strongest management teams in the industry. Moreover, he revitalized Sony Music's publishing division by making such acquisitions as the Beatles catalogue and enabled Sony to become the first major music company to make available commercial digital downloads. He is widely well-known for signing, developing, and/or nurturing the careers of Celine Dion, Mariah Carey, Beyonce, Jennifer Lopez, Ricky Martin, Gloria Estefan, Shakira, Dixie Chicks, Marc Anthony, Barbra Streisand, Bruce Springsteen, Billy Joel, and Harry Connick Jr., among many others.
Mr. Mottola was named President of Sony (formerly CBS Records) in 1988 at age 37, making him the youngest President in CBS history. In 1993 he was named Chairman and CEO of Sony Music Entertainment Worldwide. Under Mottola's leadership, Sony revenues skyrocketed from $800 million to over $7 billion a year, creating the largest sales in the history of the company and making it the # 1 leader in world sales.
A renowned trendsetter, at the forefront of driving popular culture, Mr. Mottola is credited with the crossover success and global dominance of such Latin superstars as Gloria Estefan, Julio Iglesias, Ricky Martin, Shakira, Jennifer Lopez, and Marc Anthony which today has come to be known as "THE LATIN EXPLOSION." He also initiated a number of highly successful co-branding strategies, including superstar Celine Dion's marketing partnership with Chrysler and her multi-year residency at the Caesar's Palace Forum Theater in Las Vegas, as well as an unprecedented and multifaceted global marketing campaign with Pepsi and Sony Music which helped launch the international careers of many of Sony's top acts.
Mottola was able to create new and successful business models that added to Sony's bottom line, such as amphitheaters in a co-venture with PACE Concerts, as well as creating the world's largest rock merchandising company, Sony Signatures, which today are all part of Live Nation Entertainment.
Founding the Mottola Company shortly after leaving Sony, he has created a multi-media and communications organization whose diverse portfolio, in addition to recorded music, includes ownership of intellectual properties in the areas of music publishing, television development and production, social gaming, early child development, theater, and fashion; alongside a branding, consultation, and management company working with such clients as General Motors, Kraft Foods Inc., AT&T, Proctor & Gamble, and Hershey's Food Corp. Most recently he has teamed with the Dodgers Organization (producers of Jersey Boys and Jesus Christ Superstar) and currently has 2 Broadway shows in development and production. In addition, he serves as a consultant/advisor to Catterton Partners of Greenwich, CT. and Sun Capital Partners of Boca Raton, FL. Working closely with the principals of these private equity firms buying and selling businesses and managing these acquisitions in the transitional and growth stages, as we well as sitting on the boards of some of these companies. In 2013, Mottola published Hitmakers: A Man and His Music, a memoir sharing his journey to become one of the music industry's most powerful players.
He has served on the Board of Directors of the National Center for Missing and Exploited Children, Police Athletic League, T.J. Martell Foundation for Cancer, Leukemia and AIDS Research, the Rock and Roll Hall of Fame Foundation and Museum, as well as being an annual sponsor of the National Fraternal Order of Police Foundation's Peace Memorial and supporter of the New York City Police Foundation and St. Jude Children's Research Hospital.
To book a speaker, or for more information, call 424-288-2898, or send us a message using the form below.