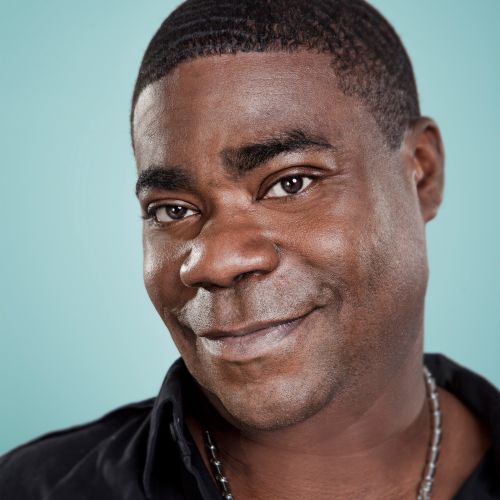 Inquire below to book
Tracy Morgan
Actor & Comedian
At a Glance
Tracy Morgan

: Biography at a Glance
Played Tracy Jordan for seven seasons on NBC's "30 Rock"
Film credits include "Rio," "Rio 2," "Top Five," "The Son of No One," "Cop Out," "Death at a Funeral," "Rio," "First Sunday" and "The Longest Yard"
"Saturday Night Live" cast member from 1996 to 2003
Author of "I Am the New Black," a compilation of studied anecdotes and moments that shaped him and his career
Headlined several stand-up comedy tours across the U.S. and abroad
Biography
Starring for seven seasons on NBC's Emmy and Golden Globe Award-winning 30 Rock, Morgan appeared opposite Tina Fey and Alec Baldwin as 'Tracy Jordan,' the unpredictable star of Lemon's hit variety show, "TGS with Tracy Jordan." In 2009 Morgan received his first Emmy Nomination for this role, in the Supporting Actor category; he has also been nominated for a Supporting Actor NAACP Image Award. The 30 Rock cast has also won the Screen Actors Guild Award for "Outstanding Performance by an Ensemble in a Comedy Series." The beloved series came to an end in January 2013. Morgan continued focusing on stand up with his national "Excuse My French" tour which hit U.S. cities, Australia, and U.K. last fall.
The last few years have been busy for Morgan as he balances a busy movie career while also continuing to travel the country for stand-up. Even adding host to his line of credits, Morgan served as the 2013 Billboard Music Awards host, where he kept the laughs going on ABC's live broadcast this May. With comedy always as his foundation, Morgan has begun tackling dramas and independent films. In 2010, he starred alongside Al Pacino and Channing Tatum in the crime-thriller The Son of No One, which received Sundance Film Festival honors. In August 2012, Why Stop Now bowed, which was also an official selection at Sundance. Most recently, he voiced 'Mr. Gristle' in the 2014 animated film The Boxtrolls and appeared as 'Fred' in Top Five.
Another milestone for Morgan was reached in 2009 with the release of his first book, a compilation of studied anecdotes and some of the more serious moments that shaped him and his career entitled I Am The New Black. He also headlined the famed "New York Comedy Festival" which featured acclaimed comedians including Bill Maher, Andy Samberg, and Patton Oswalt. Lastly, Morgan rounded out his list of great comedic achievements with his first HBO Special, "Black & Blue."
As a stand-up comic who has headlined across the country and abroad, Morgan joined Saturday Night Live in 1996 where he appeared for seven seasons and created such memorable characters as 'Astronaut Jones' and 'Brian Fellows.' After leaving SNL, Morgan went on to star in his own comedy series The Tracy Morgan Show and voiced 'Spoonie Luv' on Comedy Central's Crank Yankers. Additional film credits include: Cop Out, Rio, the remake of the British film Death at a Funeral, Superhero Movie, First Sunday, The Longest Yard opposite Adam Sandler and Jay and Silent Bob Strike Back.
After being seriously injured in a deadly car accident in June 2014, Morgan made his triumphant return to the spotlight hosting Saturday Night Live on October 17, 2015.
For speaker-related inquiries, email speakers@caa.com, or send us a message using the form below.