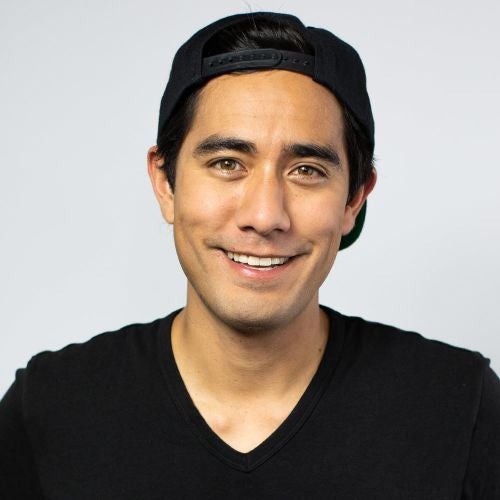 Inquire below to book
Zach King
Filmmaker & Social Media Star
At a Glance
Zach King

: Biography at a Glance
Zach King is a filmmaker, entrepreneur, and overall social media sensation, being named one of Instagram's Top 100 Most Followed users.
Zach creates content for tens of millions of fans (42M+ followers on TikTok, 21M+ followers on Instagram, 338M+ views on YouTube), as well as companies such as Walt Disney Pictures, Hasbro, Nike, Coca-Cola and many more.
Zach is best known for his "magic" Instagram, Facebook, and YouTube videos. These short videos are full of clever magic tricks that he calls "digital sleight of hand."
His work has landed him features on The Ellen DeGeneres Show, Good Morning America, Adweek, People and he was also a contender on the Amazing Race.
Zach is also the author of three books for middle schoolers that were released worldwide by Harper Collins.
Biography
Zach King — the LA based filmmaker known for his clever magic tricks and "digital sleight of hand", is one of social media's most prominent content creators. With a combined social reach of over 75 million followers, Zach's magical content has delighted fans all over the world.
Zach has been featured on The Ellen DeGeneres Show, Good Morning America, Adweek, and People. His company, King Studio, has partnered with brands such as Disney, Apple, Nike, Coca-Cola, and many others.
Recently, Zach has expanded onto the TikTok platform, where he has seen incredible growth. At over 42 million followers, he's currently the third most followed account in the world.
Reviews
Zach was great! It was a really good event.
Brand Emotion
For speaker-related inquiries, email speakers@caa.com, or send us a message using the form below.