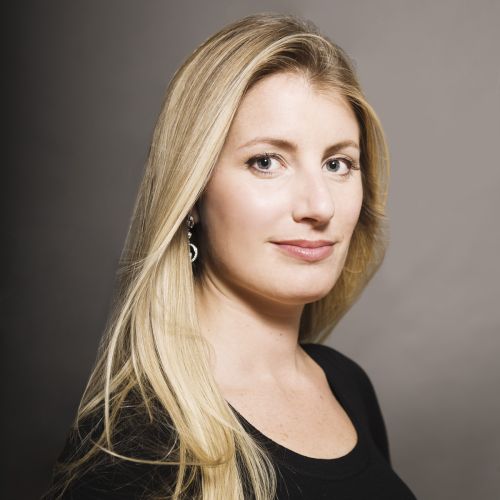 Inquire below to book
Alexis Maybank
Founder & CEO, Project September & Founder, Gilt Groupe
At a Glance
Alexis Maybank

: Biography at a Glance
Co-Founder and CEO, Project September, the first immersive, visual shopping platform
Founder of Gilt Groupe and Founding CEO, which revolutionized the landscape of luxury e-commerce and the way more than 10 million consumers shop online 
Built Gilt from an idea to a high-growth company valued at one billion that reached over ten million consumers around the globe
One of the nation's most accomplished entrepreneurs, has raised over $200 million in venture capital and helmed companies in the midst of hyper-growth 
Frequent guest on television—CBS This Morning, Fox Business, Bloomberg TV and CNBC Squawk Box 
Co-Author of New York Times bestseller By Invitation Only 
Named to Crain's "40 under 40," awarded Ernst and Young's New York Entrepreneur of the Year, inducted in the Marketing Hall of Fame by the DMA and received the Endeavor Entrepreneur of the Year Award
Previously held senior management roles at internet giants eBay and AOL
Chair of Girls Who Code
Biography
Alexis Maybank has dedicated her career to building innovative and compelling online experiences that connect consumers to their passions and hobbies. She is the Co-founder and CEO of Project September, the first immersive, visual shopping platform. On Project September the world's most stylish people show you exactly where and how to buy their favorite brands.
Project September bridges the gap between online shopping and social browsing. It is the first platform that allows a deeper, more immediate connection between fashion and design influencers, their audiences and the brands they love.
In 2007, Alexis founded Gilt Groupe and revolutionized the landscape of luxury e-commerce and the way millions of people shop online. As Founding CEO she oversaw all aspects of the company's development from idea to nearly a million members, one of the fastest periods of hyper-growth in startup history. By 2014 Gilt Groupe served more than nine million consumers. In 2016, it was acquired by Hudson's Bay, parent company of SAKS Fifth Avenue. Alexis, together with Gilt Groupe co-founder Alexandra Wilkis Wilson, is the author of The New York Times bestseller book, By Invitation Only: How We Built Gilt and Changed the Way Millions Shop. She previously held leadership roles at internet giants AOL and eBay, where she started as an early team member.
Alexis holds a BS and MBA from Harvard. She serves as Chair of Girls Who Code. Alexis was named to Crain's "40 Under 40", awarded Ernst and Young's New York Entrepreneur of the Year Award, inducted into the Marketing Hall of Fame by the DMA and received the Endeavor Entrepreneur of the Year. She has received numerous fashion industry awards and recognition, from the Accessories Council for Retail Innovation to Huffington Post Style Game Changer and Footwear News Achievement Award for eTailer of the Year.
She has spoken broadly on the topics of e-commerce, digital marketing, mobile commerce, social media and CRM including at Shop.org, the National Retail Federation Annual Convention, TechCrunch Disrupt, FT Business of Luxury Summit, and many more.
Reviews
She did a great job! She was great to work with, flexible, accommodating. It was a great success.
NRF
The event was a HUGE success and Alexis was such a great addition! I think all the women in the audience really enjoyed her story.
American Express
We were so incredibly impressed by Alexis. Not only with her presentation, content, and the way she gracefully handled her Q+A, but also with her demeanor on site. She was incredibly down-to-earth and easygoing. Truly a pleasure to meet and work with!
Bronto Softward
For speaker-related inquiries, email speakers@caa.com, or send us a message using the form below.