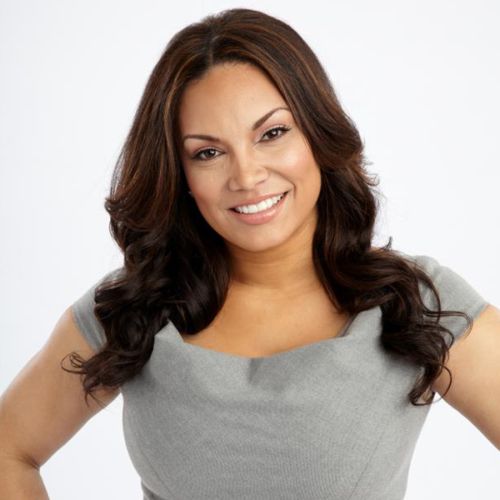 Inquire below to book Egypt Sherrod
Host, "Flipping Virgins"
Egypt Sherrod: Biography at a Glance
Hosts HGTV's "Flipping Virgins"
Appeared on 12 seasons of "Property Virgins"
Award-winning realtor and CEO of the Egypt Sherrod Real Estate Group
Has appeared on NBC's the "Today" show, CNBC, FOX, CNN and HLN, offering real estate expert advice
Hosted a national radio program that aired in more than 60 cities for more than 20 years
Author of "Keep Calm...It's Just Real Estate: Your No-Stress Guide to Buying a Home"
Founded the Egypt Cares Family Foundation, which bridges socioeconomic gaps within the urban family structure
Host, "Flipping Virgins"
Egypt Sherrod is a multi-media personality, author, real estate expert and philanthropist. Fans affectionately know her as the energetic and endearing star of HGTV's forthcoming Flipping Virgins as well as the highly rated Property Virgins, which has filmed more than 250 episodes and 12 seasons. As an award-winning Realtor and CEO of The Egypt Sherrod Real Estate Group, she has been named "America's most beloved real estate agent."
Licensed in two states, Egypt is a real estate columnist for Atlanta Magazine's HOME, and makes recurring appearances as the real estate "go-to girl" on NBC's Today Show, CNBC, FOX, CNN, HLN as well as being featured in Rolling Stone, Black Enterprise, Fast Company and a host of other magazines. In 2015 the Temple University graduate became author the NAACP Image Award Nominated Keep Calm…It's Just Real Estate: Your No-Stress Guide To Buying a Home, on Running Press/Perseus Books. As a powerhouse speaker and moderator, Egypt has been invited to host the stage at Oprah's "The Life You Want Tour", and countless business conferences.
The multi-media maven has had a 20 year award-winning radio broadcast career. She's been syndicated in more than 60 cities throughout the U.S., including major markets such as New York City, Philadelphia, Baltimore and Atlanta, managing to win over countless viewers and listeners with her dynamic delivery and magnetic mix of sass and class. But at the same time, her strong faith and solid family values has made her one of the most grounded and approachable talents to come along in a while.
Her humanitarian footprint, The Egypt Cares Family Foundation, is based out of Atlanta and allows Egypt to offer inspiring and constructive lectures, boot camps and seminars to others. The main focus of the organization is to educate both men and women about the importance of wealth preservation and home ownership. The foundation's work has been very successful, earning her many praises including the Mission Award from WEEN (Women in Entertainment Empowerment Network) and several Proclamations from Brooklyn President Marty Markowitz for her "Egypt Cares Give Back Tour," an annual coat and toy drive. Egypt has also received the Humanitarian Citation from the Borough of New York, State Assembly Citation as a Humanitarian and Community Advocate, as well as the New York City Council Citation for Community Service.
Devoted mother, loving wife, respected entrepreneur and focused community advocate – Egypt is seamlessly using the power of television and the microphone to help others, all the while living her own life to the fullest.
To book a speaker, or for more information, call 424-288-2898, or send us a message using the form below.