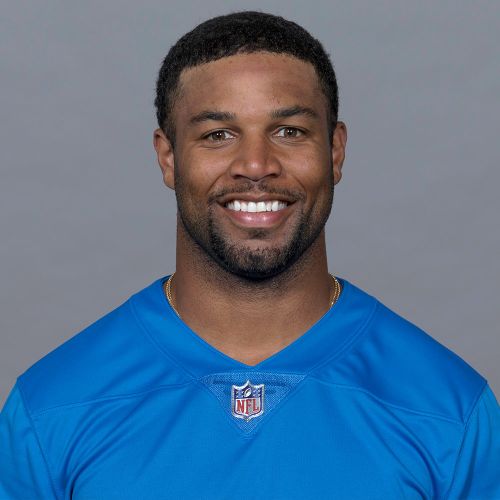 Inquire below to book Golden Tate
Wide Receiver, New York Giants
Golden Tate: Biography at a Glance
Wide Receiver for the New York Giants

Super Bowl XLVIII champion and 2015 Pro Bowl selection

Three times throughout his career he has eclipsed the 1,000-yard receiving mark, earning a name for himself as one of the NFL's best wide receivers after the catch

During his time at Notre Dame, he was drafted in both the MLB and NFL,

won the Biletnikoff Award, and was recognized as a unanimous first-team All-American
Biography
Tate emerged as a standout athlete in football, baseball, and track while attending Pope John Paul II High School in Hendersonville, Tennessee. Following his senior football season, he was named as a Tennessee Division II first-team All-State pick in 2006 as an athlete by the Tennessee Sports Writers Association and also by the Tennessee Football Coaches Association. An injury to his thumb prior to his senior baseball season lead Tate to take up track & field, where he posted the state's top qualifying times in the 100-meter dash (10.93 s) and 200-meter (22.33 s). Tate was a member of John Paul's 4 x 100 m relay squad that captured the state title with a time of 42.86 seconds. Drafted out of high school by the Arizona Cardinals in the 42nd round of the 2007 amateur draft, Tate elected not to sign with the Diamondbacks and instead enroll at the University of Notre Dame as a two-sport athlete in both baseball and football.
During his time at Notre Dame, Tate achieved great success on both the diamond and gridiron. Tate was once again drafted in baseball in the 50th round of the 2010 MLB Draft by the San Francisco Giants but elected not to pursue a career in baseball due to his success playing football. Following the 2009 season, Tate won the Biletnikoff Award and was recognized as a unanimous first-team All-American. Tate elected to forgo his senior season and was selected in the 2nd round (60th overall) of the 2010 NFL Draft by the Seattle Seahawks.
Tate has once again experienced great success at the NFL level as a Super Bowl XLVIII champion and 2015 Pro Bowl selection. Three times throughout his career he has eclipsed the 1,000-yard receiving mark while earning a name for himself as one of the NFL's best wide receivers after the catch.
To book a speaker, or for more information, call 424-288-2898, or send us a message using the form below.