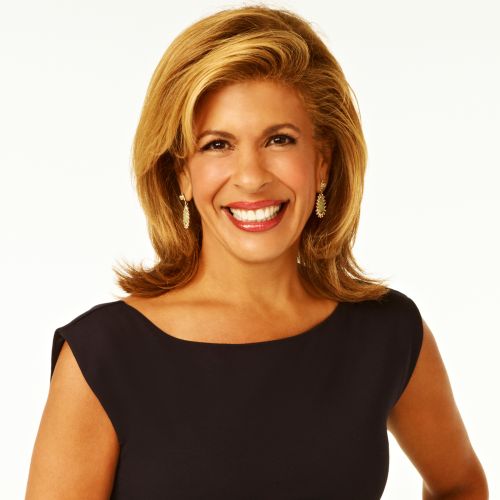 Inquire below to book Hoda Kotb
Co-Anchor, NBC News' TODAY
Hoda Kotb: Biography at a Glance
Co-anchor of NBC News' TODAY joining Savannah Guthrie

She is also the co-host of the fourth hour of NBC's TODAY alongside Kathie Lee Gifford

Since the duo teamed up in 2008, the Gifford-Kotb hour has been hailed as "appointment television" by Entertainment Weekly, "uproarious and irresistible" by People, and "TODAY's happy hour" by USA Today

Covered the war in Iraq, the conflict between the Israelis and Palestinians in the West Bank and Gaza and the War on Terror in Afghanistan
Bestselling author of "Hoda: How I Survived War Zones, Bad Hair, Cancer and Kathie Lee"
Four-time Emmy nominee and winner of the Peabody Award, the Gracie Award and the Edward R. Murrow Award
Co-Anchor, NBC News' TODAY
Hoda Kotb is the co-anchor of NBC News' TODAY joining Savannah Guthrie. She is also the co-host of the fourth hour of NBC's TODAY alongside Kathie Lee Gifford. Since the duo teamed up in 2008, the Gifford-Kotb hour has been hailed as "appointment television" by Entertainment Weekly, "uproarious and irresistible" by People, and "TODAY's happy hour" by USA Today.
Kotb joined NBC News in 1998 as a correspondent for "Dateline." She has been co-hosting the fourth hour of TODAY with Gifford since 2008. While at NBC News, Kotb has been honored with Emmy awards, a Gracie award and an Edward R. Murrow award. She is also the host of "The Hoda Show on SiriusXM." Kotb started her broadcast career in local news, anchoring and reporting for stations in New Orleans and Fort Myers.
She has covered a wide variety of domestic and international stories across all NBC News platforms as well as numerous human-interest stories and features. She covered the aftermath and one-year anniversary of Hurricane Katrina, a story personal to Kotb who lived in New Orleans for six years. Additionally, she has reported on the war in Iraq, the conflict in the West Bank and Gaza, and the War on Terror in Afghanistan. Kotb was a part of the network's extensive coverage of the 2012 Summer Olympics in London and the 2016 Summer Olympics in Rio. She also served as host of the weekly syndicated series "Your Total Health," from 2004 to 2008.
A New York Times bestselling author, Kotb has written four books, "Hoda: How I Survived War Zones," "Bad Hair, Cancer and Kathie Lee"; "Ten Years Later: Six People Who Faced Adversity and Transformed Their Lives and Where They Belong." Kotb is an 9-year breast cancer survivor and is involved in several initiatives to raise awareness about the disease.
Kotb was recognized with a 2016 Gracie Award for Outstanding Host in Entertainment/Information for her radio show, "The Hoda Show on SiriusXM." In 2015, she was honored with a Gracie Award for Outstanding Host in News/Non-fiction and a Webby Award for her 'Truly Brave' music video, shining a light on pediatric cancer. Kotb received additional Gracie Awards in 2008 and 2003, the Alfred I. duPont –Columbia University award in 2008, a Peabody Award in 2006 for her "Dateline NBC" report, "The Education of Ms. Groves" and a 2002 Edward R. Murrow Award. In 2010, 2011 and 2012, Kotb was awarded Daytime Emmys as part of TODAY's recognition as the best morning news program.
Prior to joining NBC News, Kotb worked at WWL-TV, the CBS affiliate in New Orleans from 1992 to 1998 as an anchor and reporter for the 10 p.m. news broadcast. From 1989 to 1991, she was a weekend anchor and reporter for WINK-TV in Fort Myers, Florida.
Kotb graduated from Virginia Tech University with a Bachelor of Arts in broadcast journalism. She welcomed daughter Haley Joy in February 2017 and resides in New York City.
"Hoda was terrific! She was so engaging and enthusiastic about being here. Her speech was incredible and the lines of women who were trying to get a photo with her and buy her book were out the door. Everyone loved her, and now we don't know how we are going to top her next year."

Bryant University Women's Summit
"What a fabulous day we had with Hoda! Oh my...she is fantastic...She is the most friendly and accessible celebrity ever, seriously. Fantastic one on one and in front of a crowd! She made 320 new best friends. We are blessed that she would come...Thank you for making the magic happen."

The Lubbock Women's Club
"I can honestly not put into words just how unbelievable Hoda was for our event! She not only delivered on the speaking engagement, but she set the tone for the entire day! The second she walked into the Country Club there was an overwhelming sense of joy and party for the rest of the day! She took selfies with everyone there and created such a warm feeling throughout the room. It was WAY more party and WAY less stuffy luncheon! No dollar amount could have been put on what she did for us and for Interfaith! To say she knocked it out of the park is a huge understatement. We are still on cloud 9 from Friday!! Thank you SO MUCH for all that you did to make it happen! Home run all the way around! Thank you!"

Interfaith Housing Coalition
To book a speaker, or for more information, call 424-288-2898, or send us a message using the form below.