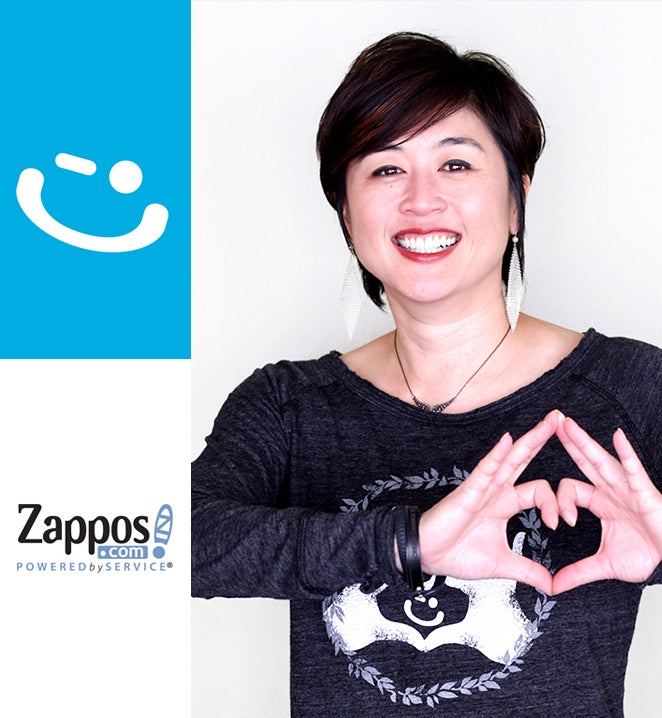 Inquire below to book Jenn Lim
CEO & Chief Happiness Officer, Delivering Happiness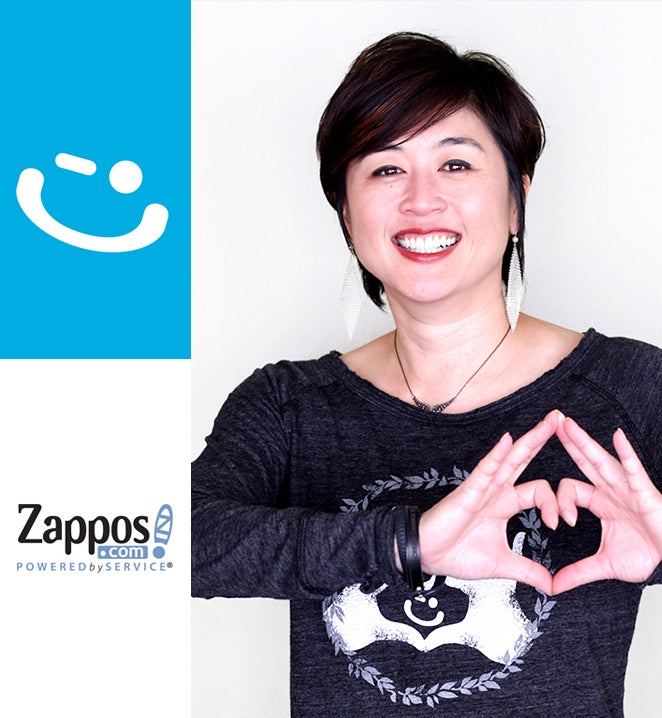 Jenn Lim
Jenn Lim: Biography at a Glance
CEO and Chief Happiness Officer of Delivering Happiness, which is dedicated to inspiring science-based happiness, passion and purpose at work, home and everyday life
Workplace consultant for Zappos, which has been on Fortune's "100 Best Companies to Work For" list since 2009
Author of "Zappos Culture Book," a global symbol of how companies can use happiness as a business model to increase productivity and profitability
CEO & Chief Happiness Officer, Delivering Happiness
Jenn is the CEO and Chief Happiness Officer of Delivering Happiness, a company she and Tony Hsieh (CEO of Zappos.com) co-founded to inspire science-based happiness, passion and purpose at work, home and everyday life. In Jenn's words: "A CHO is doing what any CEO does in an organization — putting the people/resources/financing in place to create a sustainable company. The difference between a CEO and a CHO is that a CHO is doing it through the lens of happiness as a business model."
Along with her "fearless leader" CHO responsibilities, Jenn manages a demanding speaking schedule that sends her around the world to deliver a message of passion, purpose, culture, and happiness. If you ask her, Jenn will tell you she never imagined the opportunities that she has today, but she often recalls a particular turning point in her life, which foreshadowed her path. While studying at UC Berkeley, she found herself in a poetry class and where she was expected to read my poems aloud. Another student came up to her after class and said "I loved that line." It was in that moment that Jenn realized that words have power, and became the reason that she focuses so much energy on her speaking engagements today. She says: "If I affect someone in some way it's worth it… somehow I ended up in this place where I have a bigger platform to do it now but it comes back to the same thing — inspire and be inspired."
Starting long before Delivering Happiness was a gleam in anyone's eye, Jenn was a consultant at Zappos. She created the Zappos Culture Book, a symbol of how companies can use happiness as a business model to increase productivity and profitability. She was a foundational part of the team at Zappos who proved that happier employees = happier customers = profitable/sustainable business (and most importantly, meaningful lives).
In 2010, Jenn led the launch and management of Tony's book (Delivering Happiness) which has sold over 600,000 copies worldwide and hit #1 on bestsellers lists like the New York Times and USA Today. It was voted one of the best business books by NPR, Inc. Magazine and the Wall Street Journal, remained on the New York Times list for 27 weeks and has been translated into 20 languages.
DH has evolved from a book to a company and global movement represented by over 110 countries. Today, she's dedicated to growing DH to inspire happiness in people, communities and companies so that together, we can create a happier world.
"She was great. Her message was spot on and parlayed perfectly with the other content."

Freeman Companies
"You were the highest rated speaker of the event and I believe that it is a testament to your skill as a speaker, but more importantly a validation of your message!"

Cleveland Clinic
"Jenn was a hit! From all accounts everything went great!"

AutoTrader
"She was such a joy to have on site and was lovely to work with. Not to mention, her content was really well-received by our audiences around the country. "

Leadercast
To book a speaker, or for more information, call 424-288-2898, or send us a message using the form below.