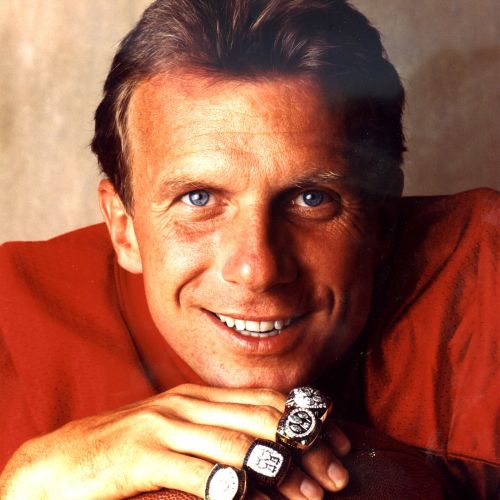 Inquire below to book Joe Montana
Legendary Quarterback
Joe Montana: Biography at a Glance
Widely considered one of the best NFL quarterbacks of all time
Led the San Francisco 49ers to four Super Bowl championships
Won more than 70 percent of the games he started during his 16-year career
Named the NFL's MVP twice and Super Bowl MVP three times
Author of "The Winning Spirit: 16 Timeless Principles That Drive Performance Excellence"
Legendary Quarterback
Widely considered the one of the best NFL quarterbacks of all time, Joe Montana personifies excellence and personal integrity both on and off the field. Yet the word most closely associated with him is not "winner"–it's "leader."
Throughout his career, Joe Montana led the San Francisco 49ers to four Super Bowls Championships. Montana won more than 70% of the games he started during his 16-year career and he continues to be an all-time NFL Leader in quarterback ratings.
Montana was named the NFL's Most Valuable Player twice and earned three Super Bowl Most Valuable Player awards. He was selected to eight Pro Bowls and named All-Pro five times. Joe retired from professional football in 1995 and was elected to the Pro Football Hall of Fame in 2000.
From the lectern, Montana now brings lessons of preparation, teamwork and performance under pressure to business audiences as a popular motivational speaker. In September 2005, Montana released his second book, The Winning Spirit: 16 Timeless Principles That Drive Performance Excellence.
Joe attended University of Notre Dame, where he received a Bachelor's Degree in Marketing. He lives with his family in California.
To book a speaker, or for more information, call 424-288-2898, or send us a message using the form below.