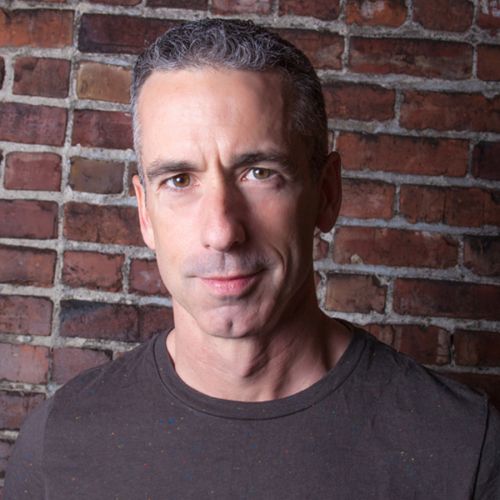 Inquire below to book
Dan Savage
Bestselling Author & Founder of It Gets Better Project
At a Glance
Dan Savage

: Biography at a Glance
Dan Savage is a Sex Advice Columnist, Savage Love syndicated in the US, Asia, Europe and Canada
Co-Creator of the It Gets Better Project YouTube campaign, documentary and book
Appearances on CNN, MSNBC, The Colbert Report, NPR and 20/20
Editorial Director of The Stranger, Seattle's weekly alternative newspaper
Author of several books including bestseller American Savage
Biography
Dan Savage is a writer, TV personality, and LGBT activist best known for his political and social commentary, as well as his honest approach to sex, love, and relationships.
Often controversial, Savage unabashedly expresses his opinions on modern politics, pressing social issues, religion, sexuality, and everything in between on a variety of news and media outlets. His editorial works and publications, though contentious, are frequently praised as frank and necessary conversations on complex issues.
Savage's sex advice column, "Savage Love," is syndicated in newspapers and websites throughout the United States, Canada, Europe, and Asia. He is the Editorial Director of The Stranger, Seattle's weekly alternative newspaper, and his writing has appeared in publications including The New York Times, The New York Times Magazine, GQ, Rolling Stone, The Onion, and on Salon.com.
Savage is also the author of several books, including: "Savage Love;" "The Kid: What Happened When My Boyfriend and I Decided to Get Pregnant" (PEN West Award for Creative Nonfiction, Lambda Literary Award for Nonfiction); "Skipping Towards Gomorrah: The Seven Deadly Sins and the Pursuit of Happiness in America;" and "The Commitment: Love, Sex, Marriage and My Family." In his latest best-selling book "American Savage," Dan shares his insights on topics ranging from marriage, parenting, and the gay agenda to the Catholic Church and sex education. It's Dan's frank and open discussions on such topics that had Publishers Weekly rave why he is, "America's most in-your-face sex columnist and gay rights activist."
In addition to his appearances on CNN, MSNBC, and "The Colbert Report," Savage is a contributor to Ira Glass's "This American Life," and has appeared on NPR's "Fresh Air" with Terry Gross, HBO's Real "Time with Bill Maher," and ABC's "20/20." Savage is a frequent and popular speaker on college campuses across the United States and Canada.
In September 2010, Savage created a YouTube video with his husband Terry Miller to inspire hope for LGBT young people facing harassment. In response to a number of students taking their own lives, Savage and Miller wanted to create a personal message to let LGBT youth know that "it gets better". Today, the It Gets Better Project (www.itgetsbetter.org) has become a global movement, inspiring more than 50,000 It Gets Better videos viewed over 50 million times. "The It Gets Better" book, co-edited by Savage and Miller, was published in March 2011, and an MTV documentary special, "It Gets Better," aired in February 2012.
Reviews
It was really one of the best nights we've had as far as speakers go. Everything went off without a hitch and Dan was amazing, and the moderator was able to put together a great conversation at the 25th hour. Dan was masterful from the donor dinner to the talk and handled the live audience questions with good humor and tact as well.
University of California, Davis
Dan was great! Very engaging, well-spoken and the crowd seemed to like him very much. Thanks again for everything.
Tiffany & Co.
Australia loves Dan Savage, what more can I say!
Producer, Sydney Opera House
Dan is fabulous! Sharp with such a sophisticated wit, profound and humanistic. At the same time he is down to earth, compassionate, friendly, so easy to work, flexible, and open. We (students, faculty, administrators, and individuals from the greater community) enjoyed tremendously his presentation and I hear great comments from all the constituents. Overall it was a great event.
Kutztown University
The event was wonderful and Dan took the time to speak to everyone who waited on line for photos and hugs after the show. Thanks for all your help too.
Dallas Pride
He just riveted the audience. A pleasure to work with as he was calm, charming and articulate.
Desert AIDS Project
For speaker-related inquiries, email speakers@caa.com, or send us a message using the form below.