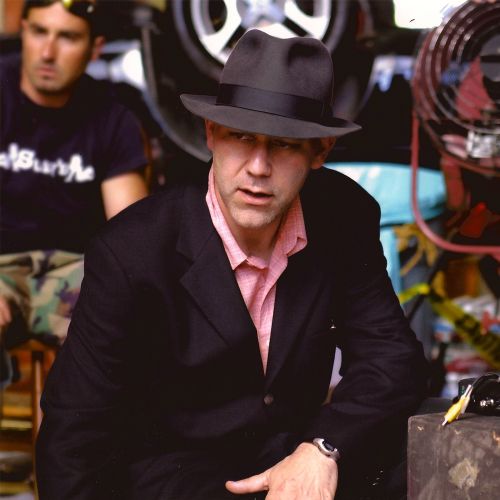 Inquire below to book Sam Raimi
Award-Winning Filmmaker
Sam Raimi: Biography at a Glance
Directed the "Spider-Man" trilogy, which grossed more than $2.5 billion at the global box office
Other film credits include "Oz the Great and Powerful," "The Gift," "A Simple Plan," "Darkman" and "The Evil Dead"
Founded Renaissance Pictures, which produced "The Possession" and the "Evil Dead" remake
Honors include two Saturn Awards from the Academy of Science Fiction, the Golden Raven at the Brussels International Fantastic Film Festival and best director at the Sitges Film Festival
Award-Winning Filmmaker
Sam Raimi directed one the industry's most successful film franchises ever--the blockbuster Spider-Man trilogy, which has grossed over $2.5 billion at the global box office. All three films reside in the industry's top 30 highest grossing domestic pictures of all time.
In addition to the franchise's commercial success, Spider-Man (2002) won that year's People's Choice Award as Favorite Motion Picture, earned a pair of Oscar nominations (for VFX and sound) and also collected two Grammys nominations (for Best Score and Chad Kroeger's song "Hero"). Spider-Man 2 (2004) won the Academy Award for Best Visual Effects (with two more nominations for Best Sound and Sound Editing) and two BAFTA nominations (for VFX and sound), among dozens of other honors.
Raimi is the producer, writer and director of the 2015 Starz's series Ash vs Evil Dead. His other recent credits include Poltergeist, Rake and Spartacus: War of the Damned.
Raimi directed Oz the Great and the Powerful, starring James Franco, Mila Kunis, Michelle Williams, and Rachel Weisz. A prequel to one of Hollywood's most beloved stories, the film grossed just under $500 million globally and reinvigorated the world's love for the L. Frank Baum series.
Apart from creating one of Hollywood's landmark film series, Raimi's eclectic resume includes the gothic thriller The Gift, starring Cate Blanchett and Hilary Swank; the acclaimed suspense thriller A Simple Plan, which starred Bill Paxton and Billy Bob Thornton; his baseball homage, For Love of the Game, with Kevin Costner and Kelly Preston; the western The Quick and the Dead, starring Leonardo DiCaprio and Sharon Stone; and the supernatural thriller, Drag Me to Hell, with Alison Lohman and Justin Long.
Raimi began his career in his native Michigan after directing his own Super 8 movies as a teenager. He left his studies at Michigan State University to form Renaissance Pictures with future producer Rob Tapert and their longtime friend, actor Bruce Campbell. Together they made their very first film, Within the Woods, a short horror film they used to raise money to make a feature. That resulting horror classic, The Evil Dead (1982), financed and produced with investments from local business people and doctors, became a hit at the 1982 Cannes Film Festival and spawned a sequel, Evil Dead 2: Dead By Dawn (1987), which, like the original, showcased Raimi's inventive, imaginative direction and offbeat humor.
Raimi next turned to the fantasy genre, writing and directing the comic book-inspired Darkman (1990), starring Liam Neeson and Frances McDormand, then followed with 1993's Army of Darkness, a comic sword and sorcery fantasy starring Bruce Campbell.
The mid-'90s also found Raimi producing two telefilms with friend and partner Tapert that became the genesis of a pair of highly popular syndicated series—-Hercules: The Legendary Journeys and the successful companion series, Xena: Warrior Princess which aired from 1995-2001. His also executive produced the CBS series American Gothic and Starz! series, Spartacus: War of the Damned.
Raimi's work has also been a favorite on the film festival circuit, with the filmmaker winning a Best Director honor for Darkman at the 1990 Sitges-Catalonian Festival in Spain; the Critics Award for Army of Darkness at the 1992 Fantasporto Festival in Portugal; the Golden Raven, also for Army of Darkness, at the 1992 Brussels International Festival; and a Grand Prize nomination for the same title at the Avoriaz Fantastic Film Festival in France. Raimi has also won the Saturn Award twice (Spider-Man 2 and Drag Me to Hell) from the Academy of Science Fiction, Horror and Fantasy.
To book a speaker, or for more information, call 424-288-2898, or send us a message using the form below.